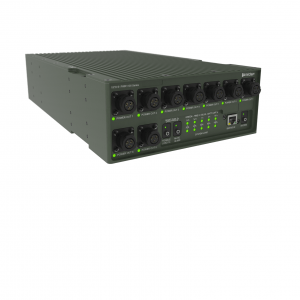 New 19"/2® products MilDef continues to expand the 19″/2® product family with rugged power products. We have just released a compact power distribution unit; solid performance, versatile, and fully compliant with the key military standards.
PWR1100 Series
The power distribution unit PWR1100 Series offers AC input, 9 DC outputs, and includes a high-performance UPS. In effect, the series combines three power products in one: AC/DC conversion, power distribution, and UPS.
The unit is designed in the 19"/2 form factor and is optimized to provide power for complete 19"/2 systems. The unit comes with SNMP functionality as standard, which enables remote monitoring of ports, battery status, temperature, etc. This makes the PWR1100 Series an ideal power solution for mobile systems in demanding environments – even when the electricity goes out.
For more information visit our website: www.mildef.com
Contact us with your questions:
Global
sales(at)mildef.com
Phone: +46 (0)42 250000
Sweden
salesSE(at)mildef.com
Phone: +46 (0)42 250000
North & South America
salesUS(at)mildef.com
Phone: +1 703 224 8835
UK & Ireland
salesUK(at)mildef.com
Phone: +44 (0)2920 647040
Norway
salesNO(at)mildef.com
Phone: +47 2340 0310